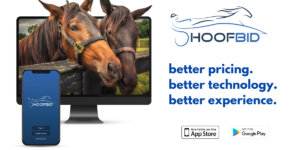 "HoofBid" App available on the App Store and the Google Play Store
An app that will revolutionize the way standardbred horses are sold online is now available on both iOS and Android™ devices
Available today, the app HoofBid offers buyers and sellers of Standardbred horses an unmatched digital experience leveraging the latest technology at a price that is affordable for anyone to sell or buy.
HoofBid brings unique features for the standardbred horse industry:
Integrated data search from Standardbred Canada. Create your horse listing with data supplied by Standardbred Canada – search for your horse and have data automatically populated so you know you have accurate information.
Sunday Night Auctions. No longer are you going to have to try and remember when an auction ends on a horse. We do auctions – once a week – Sunday Night at 7 pm eastern time. Entries will be released on Friday so you will be able to track horses that interest you – watch them race over the weekend and then buy them on Sunday night.
We use the latest technology to link race videos right into the app. Add your horses' win from the Meadowlands (racetracks from US and Canada are being added every day) – with the date and race number you can add the video to your listings in seconds.
Our app provides an integrated partnership with Standardbred Canada's TrackIT web-based service that allows users to get lifetime past performance lines and live up-to-date pedigree information.
HoofBid is offered in the United States and Canada in both the App Store and Google Play at no cost to download.
Two types of listings will be offered to Hoofbid registered users:
Regular Listings. These listings will be priced at a flat fee of $99 dollars and includes lifetime racelines and live up-to-date pedigree data, photos, and owner's comments.
Sunday Night Auction Listings. The cost for an auction listing is $99 dollars and 2.00% of the final bid amount. If there are no bids placed, 2.00% will be charged on the starting bid amount.
Upgrades offered include:
Featured Listings. Featured listings will showcase your listings for app users. This will be offered to sellers for $29.99.
Race Videos. Race videos offer buyers the opportunity to see the horse in action. You are able to choose a video from one of the 19 tracks currently offered (with more added every day).  Race videos are available from tracks like The Meadowlands, Woodbine, and Harrah's Philadelphia and more.  Race videos will be offered at an introductory price of just $.99. Yes, under $1.
Newsletter signup. Allows users to sign up for our email newsletter at no cost.
The first version of the HoofBid app has been released by Hoofbid Standardbred Sales Company, LLC. Hoofbid's founders, Jeff Davis and Frank Tatulli are standardbred owners and breeders who first met in 2012 at the United States Trotting Association Driving School in Goshen, New York.
"Hoofbid will alter the way horsemen buy and sell their horses," said Jeff Davis, co-founder, and President. "Hoofbid has been in development for nearly a year and allows for a seamless experience of selling and buying horses at a fair price."
"Also, we believe that the ramifications of Coronavirus pandemic this year, horsemen will be looking for an easier, better way to buy and sell their horses without the worry of social distancing."
App Store is a trademark of Apple Inc., registered in the U.S. and other countries.
Google Play is a trademark of Google LLC.
###