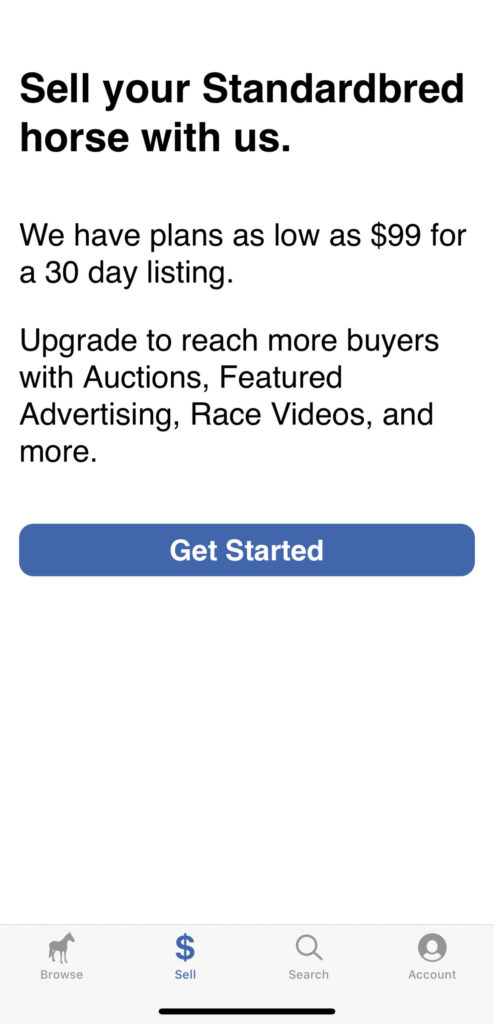 Sell your standardbred horse with us.
We have plans as low as $99 for a 30-day listing.
Upgrade to reach more buyers:

Featured Advertising
Race Videos
Get Started today.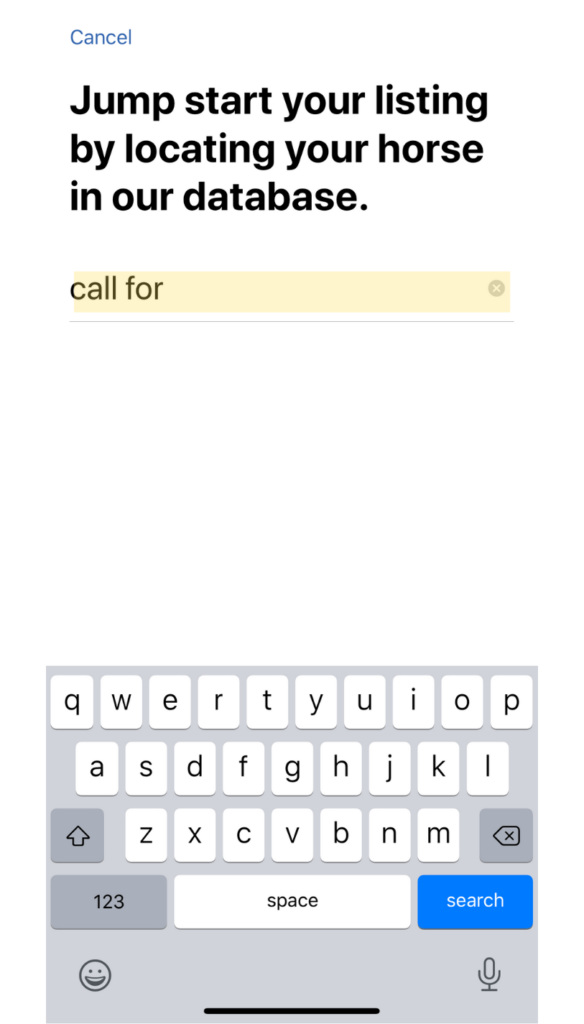 Thanks to our integrated data system provided by Standardbred Canada – this is where you will search for the horse want to list by name or by tattoo number.
In this example, we searched:
"Call for "
on the next slide you will see the search results: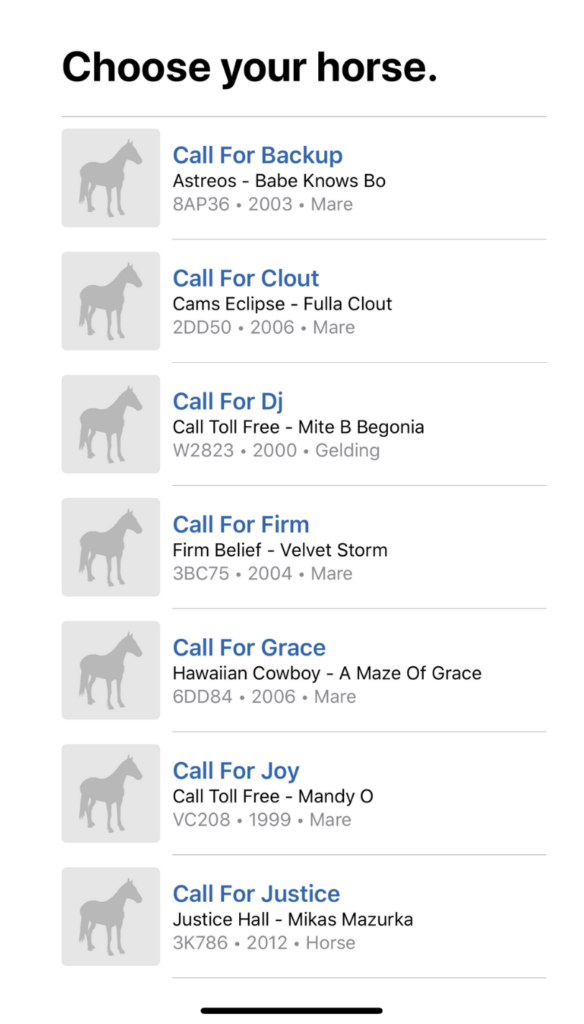 SEARCH RESULTS:
From the previous example, we searched "Call for" which returned the following results. In this case, we were searching for Call for Justice who was at the bottom of this list – we are then able to tap on "Call for Justice"'s name and select him for our listing…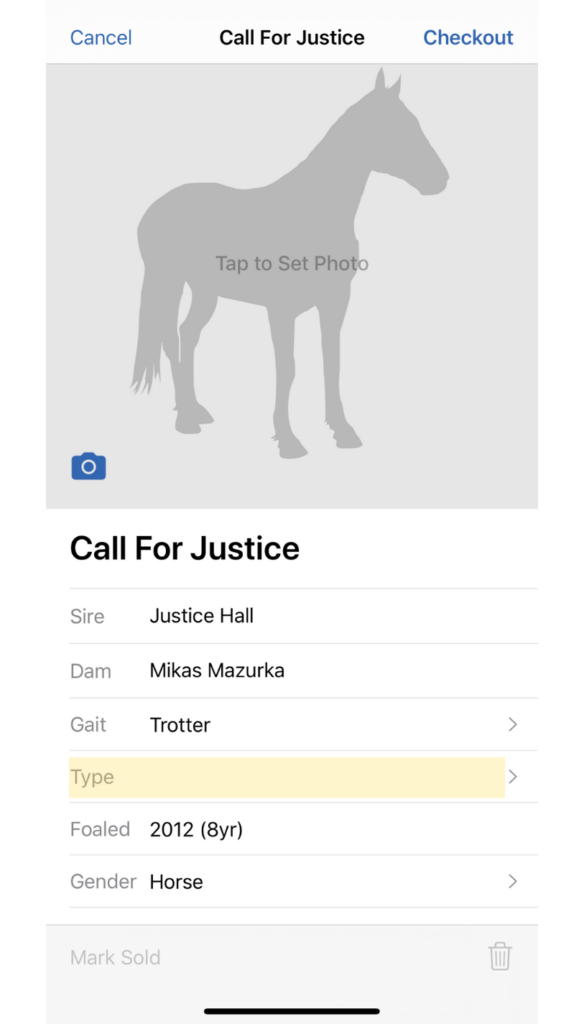 When we select "Call for Justice" above, the app populates several fields for your convenience.
Registered Horse Name
Sire Name
Dam Name
Gait
Year Foaled (Age)
Gender
This is done for you!
Now, it is time for you to select what type of offering: Racehorse, Broodmare, Stallion, Weanling, Yearling.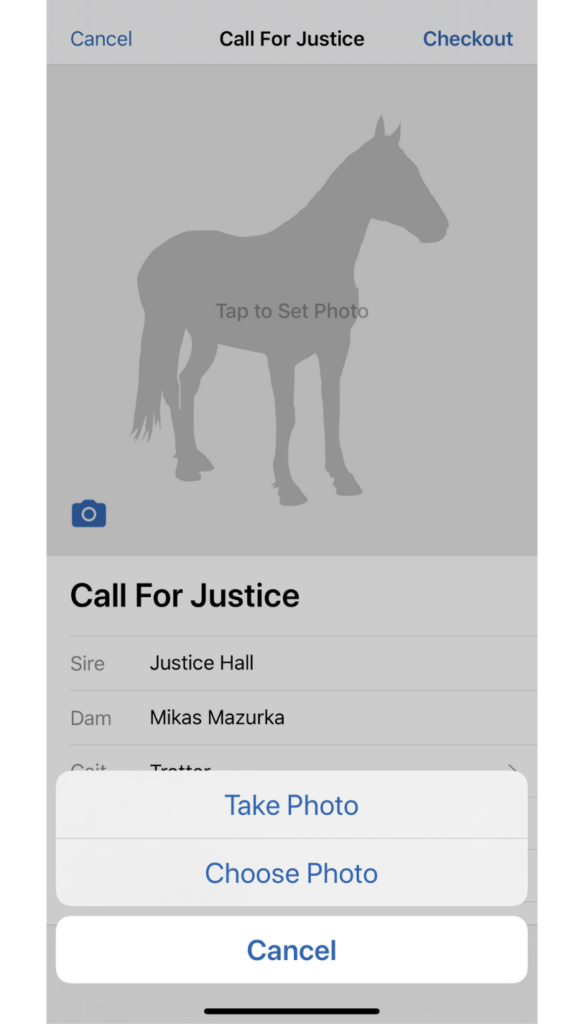 Add your photos. Nothing helps more than to have a beautiful picture of your horse – whether on the track or running around in the paddock.
We make it easy to add photos right from your phone:
Take a photo if you are with the horse right now
Choose a photo of your horse that is already on your phone!
It's that easy.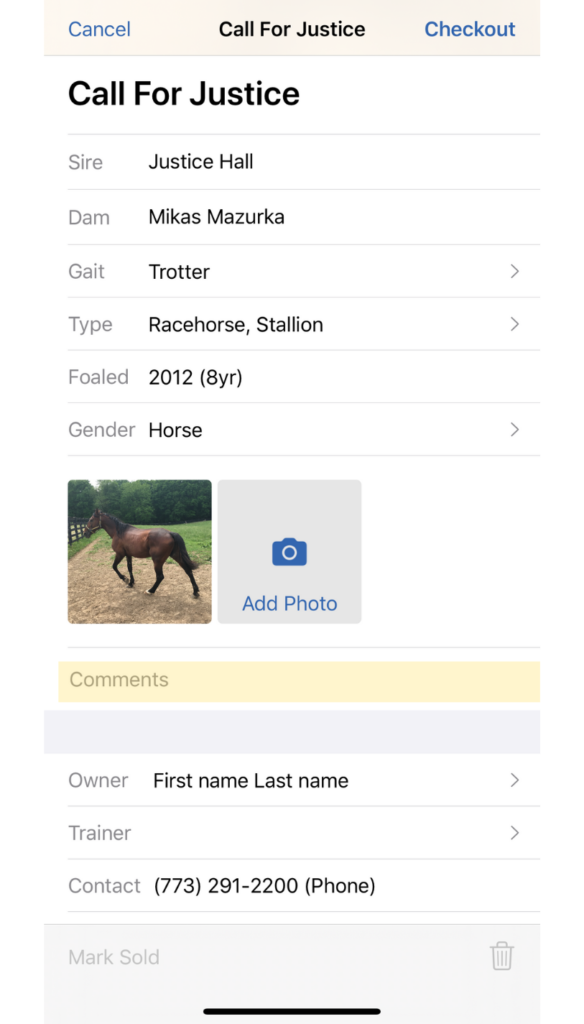 Comments area.
This area is where you can give potential buyers all the information and background they need to become confident buyers.
Feel free to give as much information as you wish in this important section of your listing.
The next section will be for seller contact information (If you have this filled out in your account tab – most of the information will be placed automatically)
Owner: First Name, Last Name
Trainer: First Name, Last Name
Contact: Phone Number
Email Address
Preferred method of contact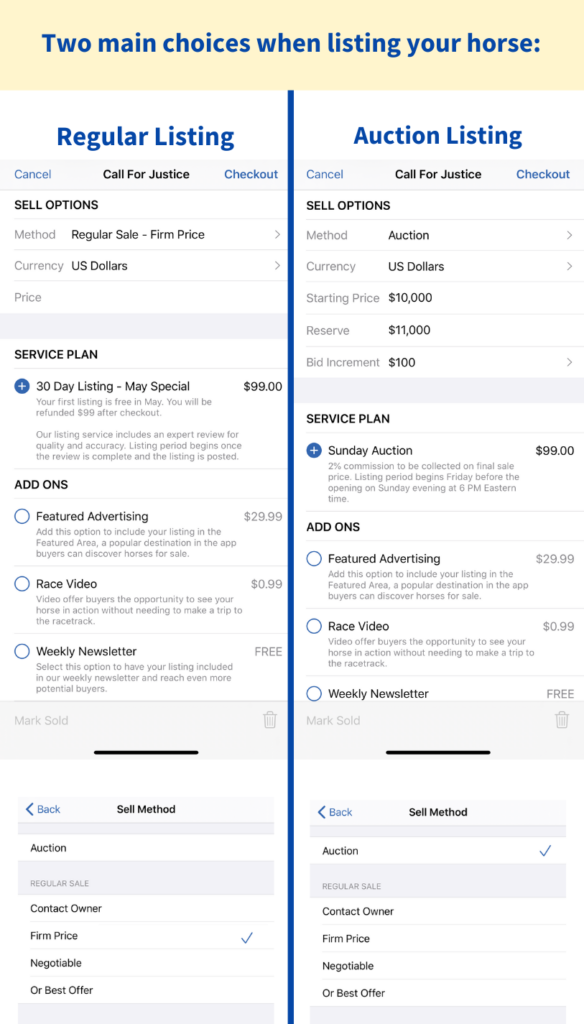 Two main choices when listing your horse:
Regular Listing ($99 flat fee for 30-day listing – race video not included)

Contact Owner with no price listed
Firm Price
Negotiable
Or Best Offer

Auction Listing ($99 listing fee plus 2% on the final or starting bid)

Auctions will be offered on Sunday Nights beginning with HIp # 1 at 7pm eastern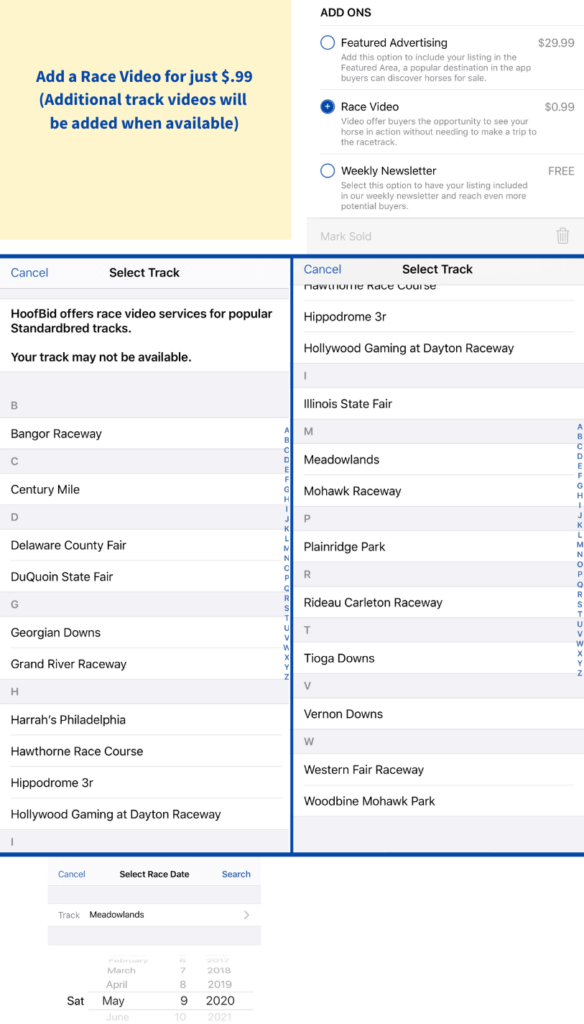 Show off your horse with a winning race video.  In just three easy steps you can have your video!
Select from one of the current tracks listed (we are adding more every day)
Pick the date in which your horse raced.
Add your horse's race to the cart!
When you check out your race video will be part of your listing!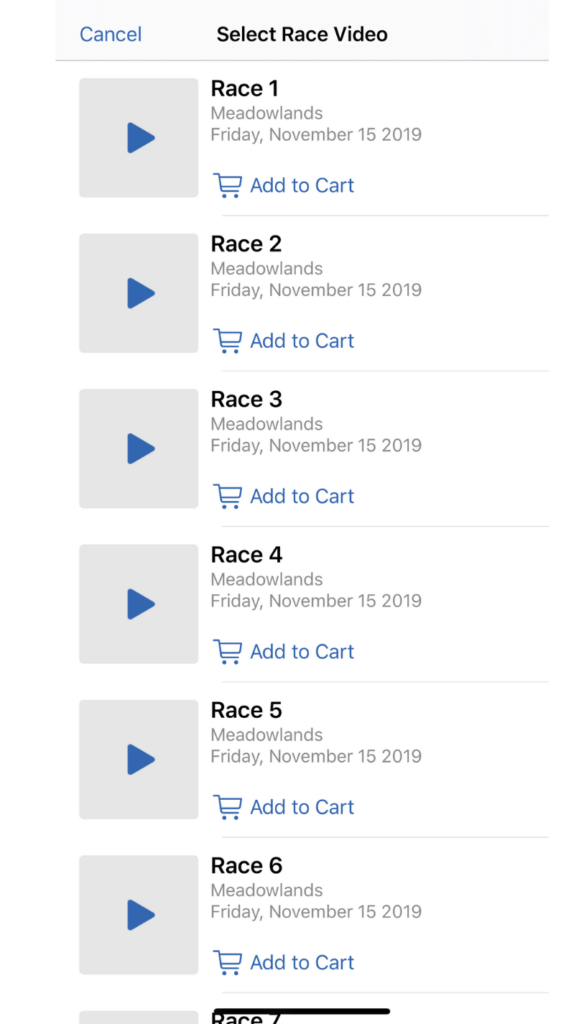 Race Video Selection
In case, you can't remember exactly which race your horse was in that day –  every video from that day's race card can be previewed for the first :35 seconds of the video.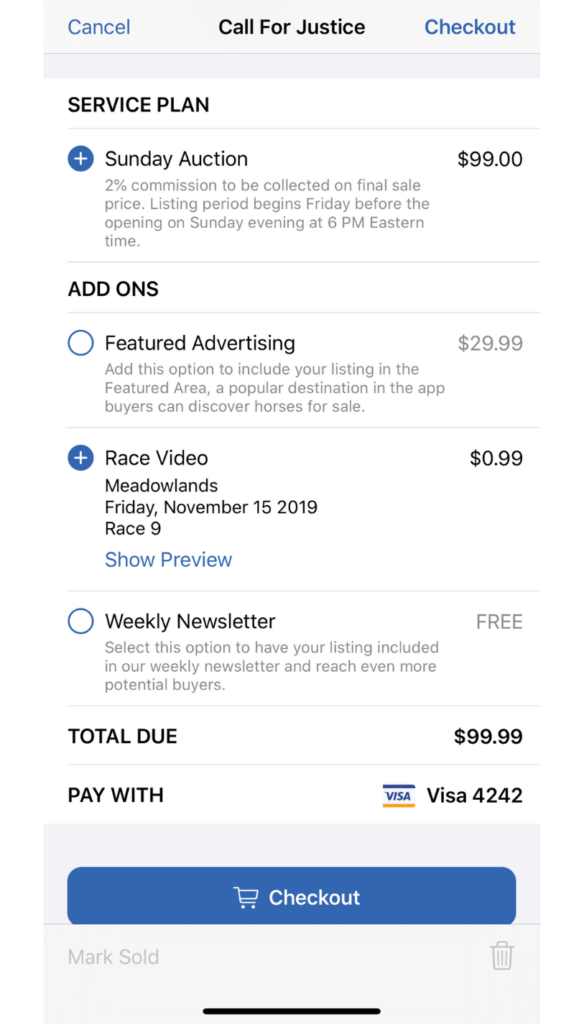 Time to checkout.
You have selected:
Regular Listing or Auction Listing
Additional Add sons:
Featured Advertising: Have your horse listed at the top of the app when users first visit.
Add a race video.
Check if you want to be included in our weekly newsletter.
Now you are able to add your credit card information.
Select checkout to submit your horse listing!